Are you looking to start your own blog, but can't figure out how to choose the best blogging platform? It's a tough choice since there are several different blogging platforms out there. How do you find out which one is right for you?
In this article, we'll help you choose the best blogging platform by going over the pros and cons of the most popular blogging sites.
Here are the popular blogging platforms we'll be comparing in this article. If you're interested in a particular platform, you can click the link to skip ahead in the article.
WordPress.org
Constant Contact Website Builder
Wix
Gator
WordPress.com
Choosing The Best Blogging Platform – What to Look for?
Before diving in the list, it is helpful to know what you're looking for in a blogging platform.
As a beginner, you'll want a blogging platform that's easy to set up, has a low learning curve, and doesn't require any coding skills.
You'll also need to think about what kind of blog you want to create, now and in the future.
As your blog grows, you may want to change the look of your site and add more features for your growing audience. That means it's important to choose a blogging platform that's flexible, with room to grow.
Starting off with the wrong platform can make it very difficult to switch later on.
Lastly, even if you don't have plans to make money blogging right now, it's smart to make sure you have the option to do so in the future.
With all that in mind, let's compare the best blogging platforms for beginners.
1. WordPress.org
WordPress.org is the world's most popular blogging software. Started in 2003, WordPress now powers more than 30% of all websites on the internet.
Note: It's easy to confuse WordPress.org with WordPress.com, which is a blog hosting service mentioned later in this list. See our guide on the difference between WordPress.org and WordPress.com.
WordPress.org is an open source free blogging platform that allows you to build your website or blog within minutes.
It is a self-hosted solution which means that you will need to sign up with a WordPress hosting provider. WordPress is a great option if you want to have full control over your blog's future.
Pros
WordPress.org gives you control over every aspect of your website.
You can grow your blog and add extra features like forums, online store, and paid membership. This makes WordPress the best blogging platform to make money.
There are thousands of free themes available for WordPress. This allows you to create a beautiful website that stands apart from the crowd.
You also get access to more than 54,000 free plugins. These plugins are like apps for your WordPress blog that allow you to add features like contact forms, galleries, etc.
WordPress is search engine friendly. You can easily create SEO friendly URLs, categories, and tags for your posts. Plus, there're a good number of great SEO plugins for additional features.
Cons
Managing your own website comes with a bit of a learning curve.
You will have to manage your own backups and security.
Pricing
WordPress software is free, but you'll need to have a domain name (about $14.99/year) and hosting (usually starting from $7.99/month).
You need a domain name and web hosting for starting any type of website.
WPBeginner users can get started for only $2.75 per month with Bluehost, an official WordPress recommended hosting provider. They are offering our users 60% off on web hosting and a FREE domain name.
See our guide on how to start a WordPress blog for complete step by step instructions.
2. Constant Contact Website Builder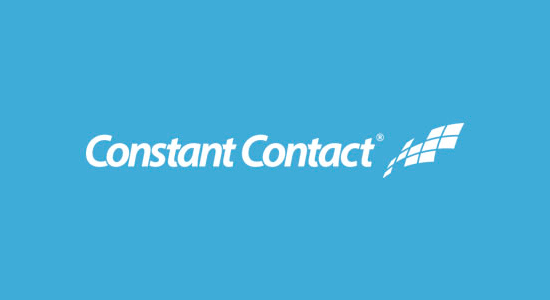 Constant Contact Website Builder is an intelligent A.I. powered website builder that allows you to create a free blog, business website, and even an online store within minutes.
You can start with their large templates collection and customize your website design using an easy to use drag and drop interface. You also get access to other helpful tools such as a custom logo maker, professional stock photo library of over 550,000 images, and a whole lot more.
Pros
Easy-to-use drag and drop website builder with no technical skills required.
Quick and easy setup, since Constant Contact will host your website for you.
Very generous free plan that allows you to try out the service and even build an online store before buying.
Free domain and Free SSL certificate is included with all paid plans.
Cons
The developer ecosystem is small, so there aren't as many third party plugins like WordPress.
Limited integration with third party platforms.
Exporting your site from Constant Contact website builder to another platform is difficult.
Pricing
Constant Contact website builder offers a very generous free plan that allows you to create a blog, business website, and even an online eCommerce store.
You can upgrade to the Starter plan for $10 per month which gives you access to a free custom domain name, free SSL certificate, and other powerful platform features along with phone based support which is a big plus considering most other website builders don't offer phone support.
The business plan which costs $20 per month gives you access to advanced eCommerce related features.
If you're a small business who don't want to use WordPress, then Constant Contact is the next best choice considering everything you get for the price.
3. Wix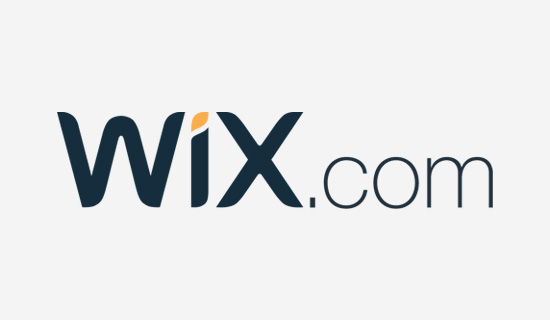 Wix is a hosted platform to build websites. It offers an easy way for small businesses to build a website using drag and drop tools. You can also add a blog to your website by adding the Wix Blog app.
Wix.com was founded in 2006 as a platform where anyone could create their own stunning website with no coding skills required. It has currently over 110 million users across the globe.
Pros
You can customize your site using dozens of templates and third party apps.
Build your site with easy drag and drop tools; no coding skills required.
Setup is quick and easy.
Cons
The free account is limited and shows Wix branding and ads on your site.
Free third party apps are limited.
Once you choose a template you cannot change it.
Ecommerce features are limited to paid plans, and even those features are limited.
See our article on Wix vs WordPress for a detailed comparison of the two platforms.
Pricing
The basic Wix website builder is free. With a free Wix account, you'll get a Wix subdomain that looks like this: https://username.wixsite.com/example.
However, you can add a custom domain for $4.50/month. Their premium plans start from $8.50/month and go up to $24.50/month.
4. Gator by HostGator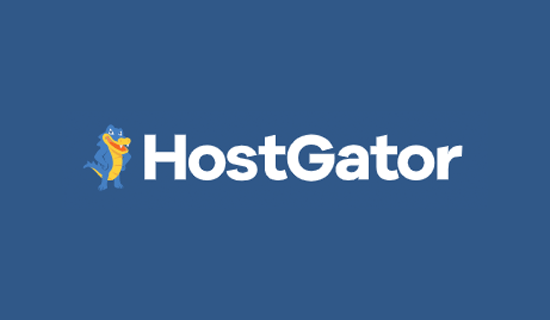 Gator is a website builder and blogging platform created by HostGator, the popular web hosting company that we use to host the WPBeginner website. Gator offers a drag & drop tool that you can use to build any type of website including blogs, business sites, and even an online store.
It's important that you don't confuse the Gator builder with HostGator website hosting. You can use HostGator hosting service to start a WordPress blog like we have done.
However if you are looking for a non-WordPress all-in-one blog platform and hosting solution, then Gator is the perfect option.
Pros
Easy drag and drop builder to customize your blog & website design.
Quick setup – no technical hassle.
Backups, performance, and security is all handled by HostGator (no headaches).
Free Domain and SSL certificate is included in all plans.
Can easily add an online store to your blog with just a few clicks.
Cons
There is no free account, but they do have a 45-day money back guarantee.
Ecommerce features are restricted to higher plans only.
Limited number of apps and extensions.
Pricing
WPBeginner users get 55% off on all Gator builder plans. The Starter plancosts $3.46/month and it comes with all the features you need to start a successful blog including a free domain and SSL certificate.
You just need to make sure to use our Gator Website Builder coupon code: wpbeginner to get 55% off.
5. WordPress.com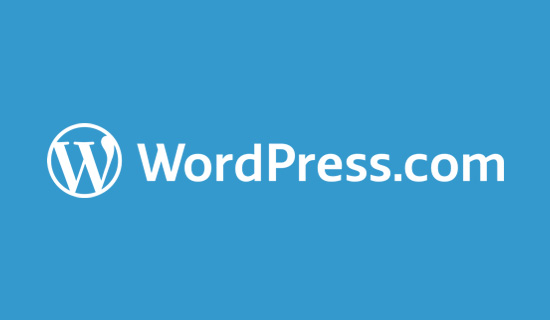 WordPress.com is a blog hosting service offered by Automattic, a company created by WordPress.org co-founder Matt Mullenweg.
WordPress.com offers a basic blog hosting service for free. You can purchase additional options like a custom domain name, additional storage, and other premium services.
Started in 2005 with a goal to bring WordPress experience to a larger audience, WordPress.com is a good blogging site for users who don't want the advanced features of self-hosted WordPress.
Pros
No setup required.
Easy to use and manage.
It's completely free if you are happy with a WordPress.com subdomain. Your free website name looks like this: https://example.wordpress.com.
Cons
Limited options to extend your site. You cannot use custom themes and plugins for customizing your blog.
You cannot run advertisements on your blog. Instead, WordPress.com will show their ads on your free website.
You do not own your blog, and WordPress.com can suspend your account if they find you are violating their terms of service.
Pricing
The basic WordPress.com account is free, but it will have WordPress.com ads and branding.
You can upgrade to their Personal plan for $4/month (billed yearly) to remove WordPress.com logo and advertising from your website. You also get a custom domain (such as www.yoursite.com).
For $8/month (billed yearly) you can get additional design tools and extra storage.
Because of the similarity in names, beginners often start with WordPress.com thinking they are getting the powerful WordPress.org software. After seeing the limitations, users often end up switching from WordPress.com to WordPress.org to have more features and control over their website.